There are varied houses in your horoscope that symbolize different twists in your fate. They, especially their position are held under the scanner to predict your future. The native is born with some ascertained manifestations in one's life; however they are fluctuating as the planets change their position. There is no denying that the planets have the deepest bearing in one's horoscope. So, a well-erudite astrologer adapts his own means to appease the planets into the benefit of the native. In the bustling swarm of career options, one stands completely out. Here's referring to the careers in the Film Industry, precisely acting career. Your Kundali has a say in this. There are different Yogas in the Kundali that hint at the success or failure of your acting endeavor. The Tenth house of your Kundali denotes occupation and profession. The visiting planets in this regulate your career options.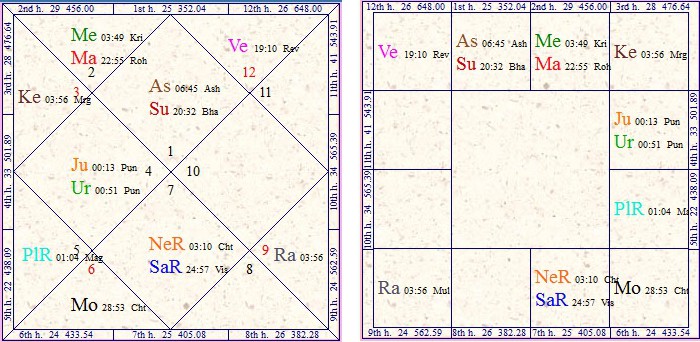 To tell you, the strong Lord of ascendant in the tenth house determines if you can establish your credentials in the glamour world. Appeased, the Lord of tenth house enables the native to charm through the hearts of the audience. You will be able to deliver a performance that stays with people for long, your tenth house has to be in your favor apart from your hard work.
The planets those are responsible for making your career at the Film Industry:
The Sun: The undisputed king of the horoscope Sun symbolizes power and fame. The stronger the effects on your horoscope, the mightier your career is. The otherwise, to say an afflicted Sun in your horoscope reflects poorly on your career. No matter how hard you try or how talented you are, it won't be nicely responded or acknowledged after a weak Sun.
The Moon: Moon and Mercury in dovetail enhances your expression which is the key component of acting. It strengthens your mental qualities to put up a fearsome front before the camera. The actors need to be the adepts of myriad expressions and no wonder a strong Moon makes you an expression-ninja.
The Mars: It invokes the power and fire within as Mars itself symbolizes fervor.  It helps you raise a resistant frontier against adversities and see the silver lining. A strong Mars also curbs your 'stage fear' of every sort. If you have a combination of a strong Rahu, Ketu, Mars and Saturn, you are sorted for a enviable career in the said industry.
Venus: Venus means entertainment and entertainment is based on Venus. No wonder, the Film industry is called the 'Venusian Industry'. A person with strong Venus knows art pathologically. Besides influencing entertainment, Venus represents a luxurious life, money and fame in the same line as the Sun. Fear an actress with a strong Venus, she may get others bite dust.