Lord Ganesha the son of Lord Shiva, who is offered prayers or Ganesh puja before offering to other Gods and Goddesses. The appearance of Ganesha is entirely different as his head is of an elephant, he is believed to be the Lord of prosperity and good luck. While in Hindu customs offering prayer has a story behind his presence and importance of God.
The story of beheaded Ganesha and the replacement by an elephant's head. The Shiva Purana mentions Ganesh puja, the angry mother Parvati, and the sudden death of her son.   According to the story, Goddess Parvati had ordered her little and young son to put an eye to the gate of their home entrance. So that no one should enter the house while his mother requires privacy.
In the meantime, Lord Shiva reached the doorsteps but Lord Ganesha did not allow his father to enter the house as he was ordered by his mother. Lord Shiva being his father, Ganesha denied letting him inside the house, Shiva got furious out of anger. Out of anger he removed the head of his son and led him to the bed of death.
But this was not acceptable for a mother when her son was killed because he was abiding his mother's orders and was killed. She became furious who decided to end the creations of the Universe. Finally, Lord Shiva decided to return the life of Lord Ganesha, their son. So he decided to bring the head of a living being but he and his followers returned without anything as they did not find a single being.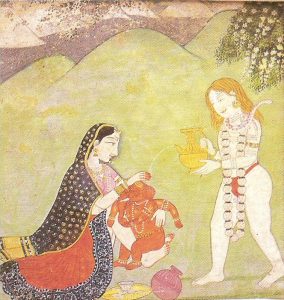 But again on the second search in their way, while searching they found Gajadanta, which means elephant so they brought the head of the elephant. Lord Shiva was able to return his life back but with the head of an elephant. Mahadev with pleasure decided to preach the sacrifice and determination of Lord Ganesha. So, offering to Lord Ganesh puja before any puja is a ritual.
Lord Mahadev's pleasure to have Ganesha
Mahadev was highly delighted by observing his love and devotion towards his mother and so blessed him that before the beginning of any Hindu rituals as Ganesh puja will be offered first before rituals to other Gods and goddesses.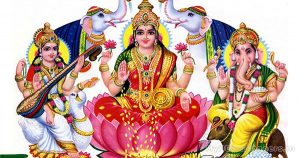 Other God's Puja after Ganesh Puja
Lakshmi puja is performed in all houses and so before the beginning of the puja, it is a ritual that Ganesh Puja is completed at the beginning. Similar to Lakshmi Puja, Saraswati Puja, Durga Puja are few which we generally can observe every year hear the chants of Ganesha as the rituals begin.
Most of us have attended the ceremonies of wedding and house warming, as in preaches you will find that Lord Ganesha blesses with prosperity and happiness. This is also one of the reasons that Gajadanta, the elephant head lord is in prayers and rituals. People strongly believe that with the prayers offered to the Lord will bestow the blessing which is necessary for a new start perhaps it is marriage or house warming.