Goddess Skandmata is the fifth image of Goddess Durga and is worshipped on the fifth day of Navratri. She is the mother of Skanda Kumar or Lord Karthikeya. Hence, she is appropriately named as Skandmata where 'Skanda' – stands for Lord Kartikeya and 'Mata' – means mother. She is also called Goddess Padmasana.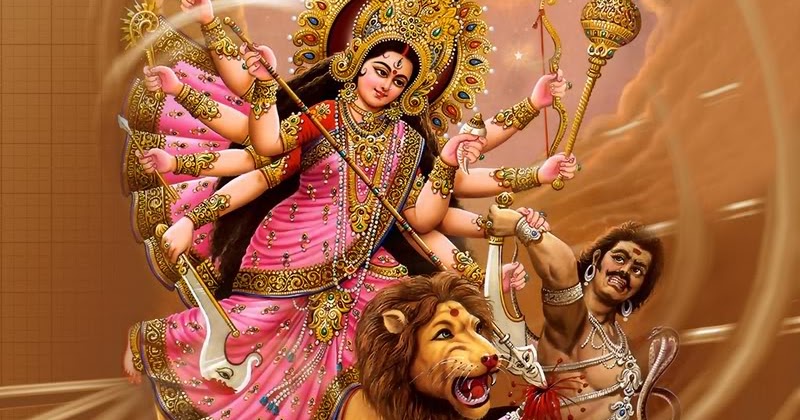 The Legend:
As the story goes, there once lived a great demon called Tarkasur. For years, he made extreme sacrifices and underwent great penance to please Lord Brahma. Finally, one day Lord Brahma appeared to him and asked him what he desired. Almost instantly he replied that he wished for immortality. Lord Brahma revealed to him that death was an inevitable cycle of life, and that no one on this planet could escape from it. Now, Tarkasur was also quite clever. He knew the austere and abstinent nature of Lord Shiva. He contemplated that Lord Shiva would never get married, and therefore asked for a boon that he could be killed only by the son of Lord Shiva. Lord Brahma had no option but to agree.
Tarkasur then started tormenting the world conceiving no possibility of being killed. He thought that he was immortal. Fed up in his anguish, all the Devtas approached Lord Shiva with their pain and distress. They requested him to get married so that the evil demon could be stopped. Lord Shiva accordingly married Goddess Parvati and became the father of Lord Kathikeya (Skand Kumar).
The Gods had given Kartikeya special powers and weapons. When he grew up, Lord Shiva encouraged him to kill Tarakasur in the battlefield. With Parvati's (Goddess Durga's) blessings, he killed Tarakasur and his army and saved everyone. He was then proclaimed commander-in-chief by the Gods.
The appearance of Goddess Skandmata:
Goddess Skandmata is seen having four arms. In two arms, she carries the lotus flower, one on each side of her. In the third hand she carries baby Kartikeya. Her fourth hand is in Mudra Abhaya, which signifies fearlessness, reassurance and protection. Sitting atop a lotus, she rides a lion and looks peaceful and benevolent.
Goddess Skandmata blesses her devotees with power, prosperity and treasures. Also, she can bless her worshippers with immense intelligence as well as salvation. She can grant oceans of wisdom even to most illiterate person. Goddess Skandmata is also considered as "The Goddess of Fire". She possesses the brilliance of the sun fulfills all the desires of her devotees. He, who is selflessly devoted to her, should free himself from worldly bondage and worship her with a single-pointed devotion. Such a person will shine in divine splendor, and attain all the achievements and treasures of life.
The worship ritual:
Goddess Skandmata's worship is twice blessed. When the devotee worships her, Lord Skand, her son in her lap, is automatically worshipped. Thus, the devotee happens to enjoy the grace of Skandmata along with the grace of Lord Skand. As she is the epitome of motherly love in this form, devotees get blessed with her immense love as well as the graces of Lord Skand. It purifies one's heart.
Skanda Mata is venerated as well as Lord Shiva and Lord Brahma, by chanting the following mantra:
Ya Devi Sarv Bhoote Shu Skanda Mata -Rupen Sansthita|
Namastasyai Namastasyai Namastasyai Namo Namah||