The work Mahalakshmi has derived from 'Lakshya' which means goal. No wonder goddess Lakshmi brings good fortune, wealth and opulence in your life. The consort and active energy of Lord Vishnu, Mahalakshmi is blessed with six divine strengths. As we already know that both Rama and Krishna are reincarnations of Lord Vishnu. In both cases Lakshmi came in this Earth being his consort as Sita and Rukmini respectively. Her idol is seated on a lotus and has four hands that signify Dharma (religion), Artha (meaning), Kama( worldly attachments) and Moksha (redemption).
Mahalaksmi Yantra is symbolic of goddess Lakshmi's blessings. It is the most auspicious yantra that helps bring prosperity and financial gain in one's life. Having hold of this yantra ensures wealth, fame and success in your life. All you need is a pure heart full of devotions to the goddess and perform the puja to acquire Mahalakshmi yantra.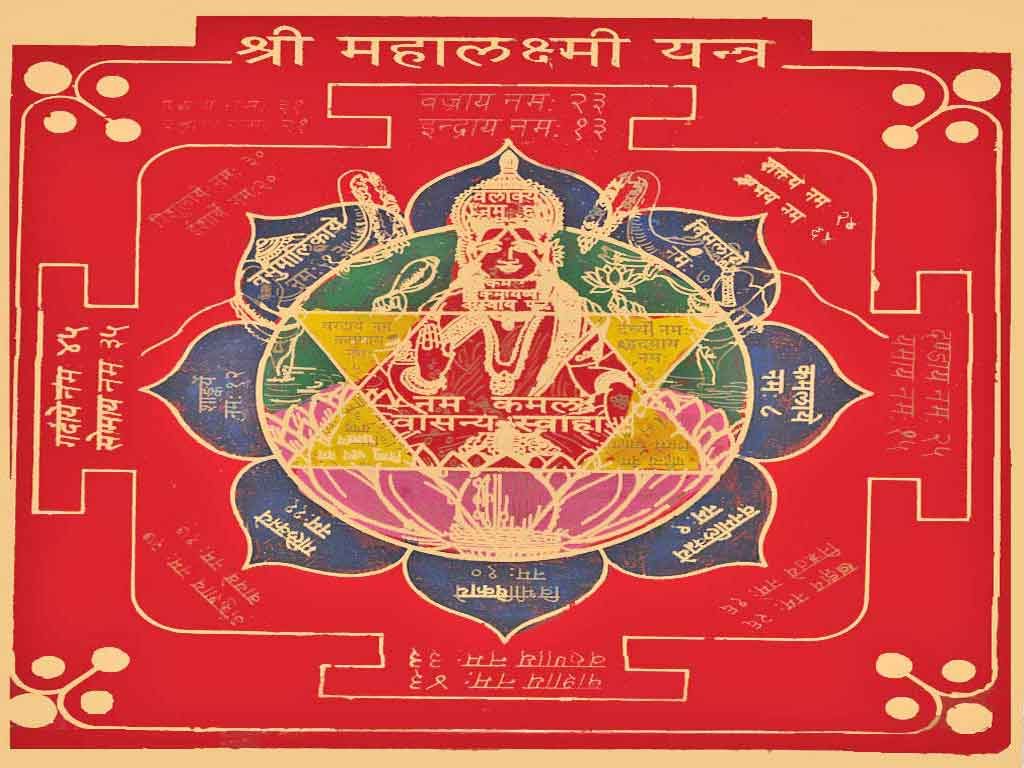 The geometrical pattern of Mahalakshmi yantra:
The yantra is meant to be placed on places like cashbox, almirah, locker and puja room. The embossing of distinct geometric patterns on a copperplate enhances the overall look of the yantra. There are interlocking patterns like squares, triangles, floral shapes etc. Every pattern has its own meaning. The Mahalakshmi yantra is four most influential wealth and prosperity yanta combined- Kanakdhara Yantra, Shri Durga Yantra, Shri Kailash yantras and Shri Mahalakshmi yantras.
How to attain the Mahalakshmi yanta:
The Mahalakshmi yantra is a result of a successfrul Lakshmi puja. You have to appease the goddess to evoke her blessings in the yantra. Wednesday during the evening hours is the best time to perform this yantra sadhana. You need to purify yourself in the first place and perform the puja there after. Priests also perform this puja in the auspicious festival Diwali to welcome the goddess in their yajman's adobe.
Things you need to perform this puja are:
Shri Mahalakshmi yantra, Yellow asana, Tamra patra and water, Gangajal, Flowers and fruits as offerings, coconut, Coconut, betel nut or gol suppari, Betel leaves or paan, Incense sticks or sugandhi dhoop, Rudraksha mala with 108 beads.
The overall formula of this puja:
The yantra should be faced towards the East and then washed with Gangajal. Wash it with pure water thereafter. Get rid of the excess water and wipe it carefully. Install the yantra on a clean piece of yellow aasana. Place betel leaves and betel nut over it and light incense in front of it. Rub some vermilion or you can just put the small box of vermilion there as an offering. Offer flowers, fruits and coconuts to the goddess.
Goddess Laxmi is the Goddess of Wealth and if you want to put an end to all your money related problems, then worship this Yantra.