The 2nd Day of the Navratri festival is marked by a holy worship and adoration of the second manifestation of Goddess Durga – known to be Goddess Brahmacharini.
This day celebrates and pays reverance to Goddess Brahmacharini, as a pure unmarried notion of the Goddess Durga. She is an epitome of peace and tranquility. She is also regarded as a source of knowledge and wisdom. The worship of Goddess Brahmacharini is believed to bring immense peace and sovereignty to her devotees.  Any person undertaking the ritual of fasting and dedicated prayer on this special day is inevitably blessed with 'moksh' – a freedom from the cycle of life and death. It connects with the worshipper and helps him to achieve control on his senses and attain salvation. On this day, the worshipper's mind is established into Swadishthan cycle and receives the blessings from Goddess Brahmacharini.
The appearance of Goddess Brahmacharini
Dressed in a white sari with orange border, Goddess Brahmacharini is considered a symbol of love and harmony. She is often seen holding a sacred rosary made of tiny beads in her right hand. These beads called 'Rudraksh' are made out of a particular seed and used in the deity's worship. She is further depicted she holding a 'Kamandalu' (a pot of water) in her left hand.
The persona of Goddess Brahmacharini:
Goddess Brahma Charini exudes radiance and warmth. She is deeply austere and meditative. Her face highlights all three worlds. It is believed that Goddess Brahma charini has pleased Lord Shiva through a dedicated fasting and penance. Due to her sacrificing nature, she is an inspiration to her followers.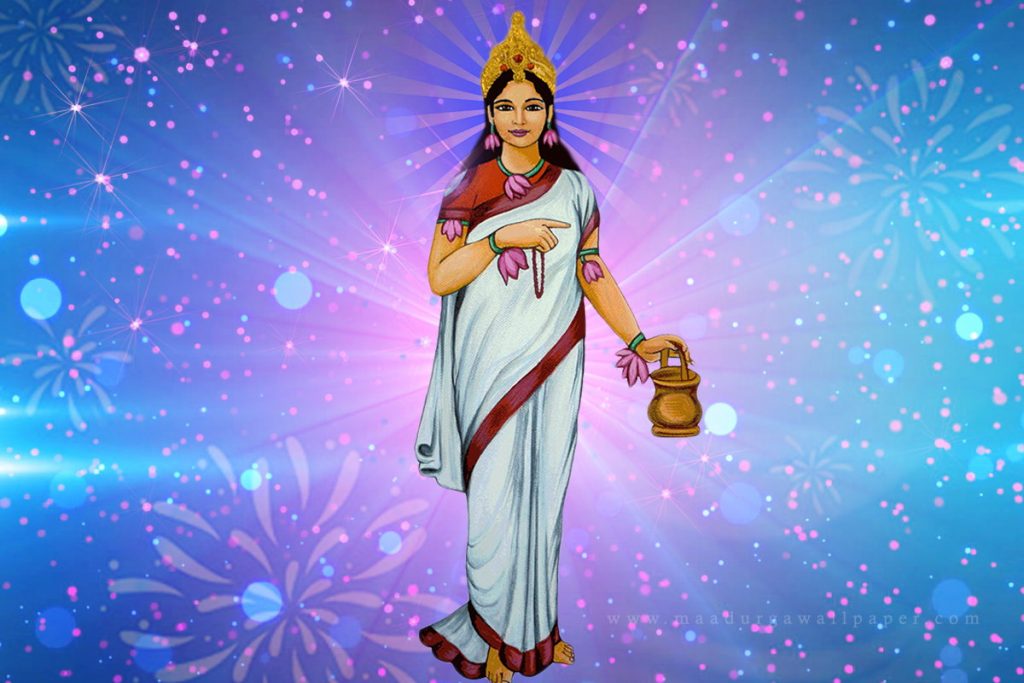 The worship ritual:
The sacred puja (prayer ritual) starts with chanting the following prayer with a flower in hand:
Idhana Kadpadmabhyamshmalak Kamandalu
Devi Prasidtu Mayi Brahmacharinyanuttma 
The Goddess is then bathed with 'Panchamrit'. This is a special mix of 5 blessed foods namely honey, milk, yoghurt, ghee and sugar. After completing the bathing, an offering of flowers, roli, akshat, sandalwood, sindoor, paan and supari are made to the Goddess. A garland of hibiscus and lotus flower is also put around her neck and the Aarti is performed.
Brahmacharini Mantra:
Ya Devi Sarvbhuteshu Srishti Roopen Samsthita |
Namastasyai Namastasyai Namastasyai Namo Namah ||
Dadhana Kar padmabhyamakshamalakamandalu |
Devi Praseedatu Mayi Brahmacharinyanuttama ||
Goddess Brahmacharini's Strota Path:
Tapashcharini Twahi Tapatray Nivarneem
Brahmaroopdhara Brahmacharini Pranmaamyaham
Shankarpriya Twahi Bhuktimukti Dayini
Shanintda Gyaanda Brahmacharinipranmaamyaham
Must Read- These Are The Most Dominant Zodiac Signs