Tulsi plant in Hinduism- There are myriad reasons why the Hindu pantheon grew fond of Tulsi. Besides outshining the fragrant flowers for worship, the Tulsi excels in healing many health hazards. It is the most sought after ingredient for Lord Narayana puja. Tulsi is known to bring health, elegance and grace in your life. A Tulsi plant in your backyard cleanses the air off harmful bacteria and purifies the ambience. Tulsi also invokes the Gods attracting the spiritual vibration. As per the mythology however, Tulsi, which is otherwise called Hari Priya, is symbolic of Mahalakshmi, the divine consort of Lord Narayana.Tulsi plant in Hinduism-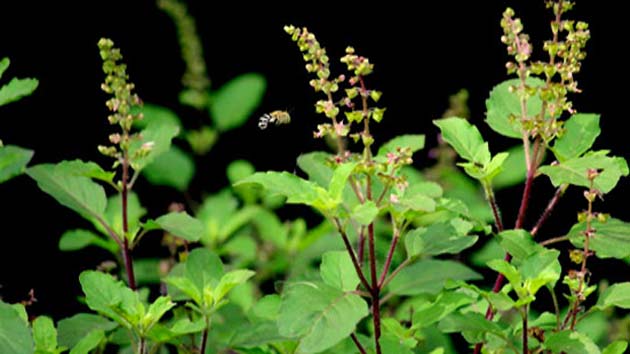 The mythological take on Tulsi:
According to the Hindu scriptures, Lord Krishna visited Vrindaban as he wanted proximity with Vrindavati Devi. Tulsi is said to be one of the sixteen thousand wives of Lord Krishna. There is a dense Tulsi forest in Vrindavan where Lord Krishna performed his Raas Leela with the Gopis and milkmaids. This Tulsi plant leaves a person delirious after spending a night therein.
Tulsi, in her previous birth was called Sati Vrinda who was wholeheartedly devoted to her husband Jalandhara. Jalandhara was born at the time when Lord Shiva burnt Kamadeva alive so was very cruel in nature. He sparked rigmaroles to destroy the sacrifices of Rishis and Munis to become powerful leaving the Gods worried. It prompted Lord Vishnu to contemplate killing him but in view of his wife's purity and devotion, he dropped the idea. He instead took the form of Jalandhara and outraged her virginity to teach Jalandhara a lesson. On figuring out the deceit, Sati Vrinda cursed Lord Vishnu to turn in to Shaligram or stone. On the contrary, Lord Vishnu blessed Sati Vrinda to reincarnate as Tusi and devote herself to the welfare of humankind.
The usefulness of Tulsi in Ayurveda:
Tulsi is the life-blood of Ayurveda. That is to say, the queen of medicinal plants, Tulsi has healing quality when not even consumed as it purifies the air. It contains Mercury which is a natural antibiotic used for warding off pulmonary diseases, unblocking the respiratory track, cold, sore throat, even whooping cough in children. Infuse Tulsi leaves in tea or eat Tusli coupled with honey in empty stomach, either way it benefits your health.
Know the significance of Tulsi Mala in Hinduism:
Tulsi, when perished is useful too. Its stem, branches and dried wood are made into Japa Malas. The Hindus use Tulsi Mala for Japa because of its calm and composed nature. Besides, Tulsi intensifies positive energy and tranquilizes the mind. However, there are conditions applied to use Tulsi Mala. A satwik person who lives on vegetarian diet and refrains from consuming alcohol can only use Tulsi Mala for Japa. Tulsi mala is incorporated with either the flower of Vedanta or Samkhya.
Tulsi Vivaha:
During the Alakh Bara Paramhansa on every year in Ekadashi, the marriage of Tulsi and Shaligram shila is celebrated majestically. The marital alliance invokes divine energy of all sorts and brings prosperity. Sindoor, Mangal sutra, marigold malas, sweets and arati are offered to the god and goddess during the marriage.Tulsi plant in Hinduism.